How to generate leads via Facebook
Lead generation is the one topic that any company would be keen on improving on a daily basis.
Facebook is the one social media site almost every person living on this planet keeps checking on a daily basis.
So, it's surely obvious for any company to use Facebook to get the maximum number of quality leads!
The first step of any relationship is the initial attraction. With online marketing, that attraction is likely due to your social media profiles and the content you put out. Once you've sparked the initial attraction, leads can then be converted into a customer.
Thus one must make complete use of Face-book.
In just a short period of time Facebook has taken the world by storm, changing the face of the online world as people know it. A company headed by Mark Zuckerberg that is now worth more than 135 billion dollars, Facebook built up a community of online users that has already surpassed the 1.23 billion mark.
What is Lead Generation?
Lead Generation is a very vital war in the battle that is marketing. It is the first phase of marketing. Lead Generation is the process of instigating such customer interest into your business for the purpose of further engagement. It is the sowing of seeds.
Check out these articles mentioned below for more details on leads, types of leads and lead generation.
You could click here, here and here for the respective topics.
Why Facebook for business?
If your small- or medium-sized business doesn't have a Facebook business page, then you're missing out on some serious lead generation opportunities.
Most marketers know by now that Facebook is an important business tool for companies of every size and industry. With a daily active user base of 1.13 billion (1.03 billion on mobile alone), it can help you reach new audiences you may not have been able to reach otherwise. It can also help you get found more easily in search, create a community around your business, promote the content you create, and develop a strong brand identity.
And yet, we find that only about half of marketers use Facebook to source leads. This needs to change. And even if you are generating leads on Facebook, we all could probably use a little boost in our lead generation efforts. Here is why –
It is an easy way to stay in touch with your consumer base.
You could build strong brand awareness and loyalty.
Also, creating an account is free.
The site in general – even its advertising options – are user-friendly.
Facebook is a busy place. It has a larger population than any country in the world, except China and India. According to Facebook, its citizens are highly active. They visit the site at an average of 40 times per month for an average of 23 minutes per visit. What that means for the B2B marketer is that business updates are competing with potentially far more compelling stuff (photos, party invites and what does that hot guy from high school look like now, anyway?)
Hence, it has become a very useful tool for marketing and advertising.
How to Generate Leads via Facebook?
Is your business present on Facebook? Do you want to go beyond likes, comments, and shares for all the efforts you put in your social media strategy? If so, then you need to start use at least few of the below mentioned tips.
The following describes the basic ways or methods on how you can use Facebook for lead generation and attract targeted customers through its promotion channels.
Tip #1 – Set Up FB pages and group
Pages are great channels for marketing your brand within Facebook. It's like your own website within Facebook where you can develop a following and interact with them through social signals as well as other available features. Customization is a bit limited though but you can make use of third-party tools and apps to improve your Page just a bit more.

Groups is Facebook's equivalent of an Online Forum or Discussion Board. It's very useful for generating leads and potential customers. Groups can focus only on one topic or genre depending on how you intended them to be. You can setup your Group as a member-only community, or have it Open for greater attraction of targeted audiences interested in the theme or topic of your Group.
Also, the URL's are of utmost importance. Attract organic leads from online users looking for the kind of topic or theme discussed or presented in your Facebook Pages or Groups by using an appropriate vanity URL. That's one of the personalizations Facebook allow users which is similar to the sub-domains offered by free blog and website platforms. So, make sure that you set a vanity URL that is relevant and can immediately identify your brand, product or services. This makes it easy for targeted audiences to find you at Facebook.
Tip #2 – Relevant landing page
A landing page, also known as the lead capture page. It's a page dedicated to the content you have created, has information about the content itself and a form where people can type their details in exchange for accessing your content.
One of the best ways to generate leads on Facebook is simply to send people directly to landing pages for lead-generating offers. The strategy and design of your landing page is crucial and you might need the help of a web developer to help you set this up on your own site.
When you do this, make sure the offer has a compelling featured image that's getting pulled into the Facebook post. To ensure Facebook pulls the right image from your blog post into your Facebook posts, you'll need to first optimize the image size for Facebook and then add the proper open graph tags to your website.
Tip #3 – Get to Know Your Ideal Customers
Facebook is a crowded space and you have only a split second to get someone's attention. You need to craft a message that will stop your target audience from scrolling past.
You can do this only if you know your audience well. Find out what matters to them about the problem you can help solve, how they feel about it, how they feel after solving it, what questions they have, and the language they use to talk about it.
Gather this information from conversations with customers (or prospects) and from listening to conversations in relevant Facebook or LinkedIn groups, online forums, and on Twitter. This information will help you create more effective ads and landing pages.
Tip #4 – Facebook Lead Ads
By auto-filling lead generation forms with user details, Facebook's lead ads make it easier for people to sign up and receive your offer.
Facebook has made the process of generating leads on the platform much easier. With the new Lead Generation objective, you can ask customers and prospects for their information, and they can provide it without ever having to leave Facebook.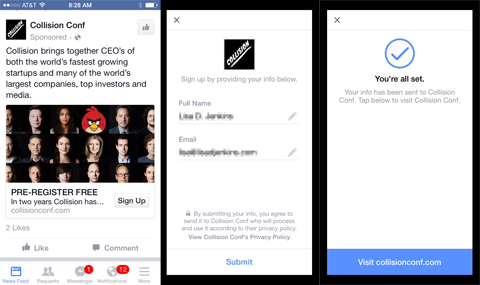 Here's how lead ads work. Show your ad to users, and if they're interested, they'll click the call to action to bring up a form pre-filled with their personal information that they've shared with the network. They can then review the information, edit it if needed and click Submit. Lead ads pre-fill users' contact information to make it easy to fill out forms on mobile devices.
Keep in mind that Facebook has only released the Lead Generation objective to some advertisers. If you don't have it yet, don't fret. You should get it soon.The auto-fill forms make the signup process as easy as possible. And the less people have to do, the higher the probability they'll convert. If you need more information from users than Facebook can provide, you can ask for it by customizing the form.
Tip #5 – Quality Content on your Profile, Pages and Groups
As we have mentioned in our previous articles, Content is King.
We, content is king on Facebook too!
There is a world of information on Facebook supplied by individuals and businesses, and if you want to make someone stop scrolling further when they see your ad, your creative needs to have great content. This is not just about the imagery and text you use, but it is mostly about what you are trying to convey through your ad and what's in it for the user that will make him pause and take notice.
Content isn't the key to your Facebook strategy. It IS in fact, your Facebook strategy. Without content you wouldn't be able to:
Update Your Facebook Status
Launch Facebook Ads
Share Information With Fans
So quality content that your targeted audiences will be interested in should fill your profile pages and groups – it's what social networking is all about. This could be a great article coming from your blog or website, complete with compelling graphics, pictures or video. You could also post a link to your Infographic and generate more leads. Post something that your targeted audiences will enjoy – enough for them to want to share it with others. You also need to post useful and relevant posts and content from other related websites so that your readers won't find your posts self-serving.
Here are some practices in order to achieve the best Quality Content –
  5.1) Image best practices:
Include a person (best practice is actually a smiling, relatable woman)
The 2nd and 3rd-most successful ad images are babies and animals (this is pretty much true across all social media marketing platforms)
Test an odd or funny image. These make Facebook users do a double-take and encourage them to read your headline and engage.
Remember K.I.S.S. (Keep it Simple Stupid): Avoid complex images that Facebook users will just gloss over.
  5.2) Headline Best Practice:
Dollar and percentage signs, the word "Free", and your unique logo design (if it's well known) will attract the eye of Facebook users.
Focus your headline on being eye-catching and communicating value. Your body copy will encourage a click and tell users what to do.
  5.3) Color and Detail Best Practice:
Don't use blue or white, as these colors blend into the Facebook color scheme and users' eyes will just skim over your ad.
Instead, use orange, green and red: eye-catching, bright colors.
Borders; If your logo or the image you want to use is blue, keep the same image but throw a colorful border around it.
Borders, shadows (even increasing the yellow and green gamma on your image) can have an effect on your Facebook Ad's click-through-rate. Remember the smallest details can have the greatest effect.
Tip #6 – Consistency
You should also be consistent with your postings and do it on a regular basis. This is important particularly if you're already building up followers for your brand.
Keep your postings relevant. Also, at the same time your post should also generate excitement that feeds your targeted audiences' need to be amused, curiosity-satisfied, and entertained.
Your Facebook posts reach out to only under 10% of the people, that have liked your page. This for a starting business with fewer likes is like completely useless. At least organically. Everything from there is thanks to how engaging your publications are.
So it is very important to write often and post interesting content with fresh imagery, to catch your fans' attention. Of course that doesn't mean you have to spam. Just do serve your audience and do not spam just for the sake of it.
Tip #7 – Use Videos
Nowadays photos, design images and videos are what catches the attention of users the most. Long statuses are less popular.
Just one month after the introduction of Facebook Timeline for brands, visual content — photos and videos — saw a 65% increase in engagement. Whether this means creating images, purchasing images, or sharing graphics with proper attribution, there's endless opportunity for image variety.
Videos involve a longer commitment from your Facebook audience. But when it comes to having content variety on your page, a video can be a nice change of pace. Just be sure that when you do post a video, it's good
enough to merit a reader's time.
Tip #8 – Contests
Contests are my favorite way to generate qualified leads likely to convert further down the sales funnel. However, it is essential that you optimize them intelligently and include the right kind of prize. 
Here's a five-step strategy for generating leads with a contest landing page and Facebook Ad:
Create a Facebook Ad where your contest's prize is front-and-center (dollar values, percent signs, etc).
Target your ad exclusively at people likely to click on it (more on this later).
Make your prize valuable, but not so valuable the reward isn't worth it. I recommend gift cards, as anyone interested in any of your products will engage, and only people interested in your products.
Create a contest-centered landing page, which requires Facebook users provide their email address (lead information) in order to enter.
Run your Facebook contest and ad for 2-4 weeks before randomly choosing a winner.
Tip #9 – Events
Life events happen every day, and with the right Facebook advertising strategy, you can use these events to target new leads and provide them with an easy option to turn to for help during this particular life event.
Targeting life events is a somewhat new feature, but it's quickly becoming a popular option for businesses that want to get the jump on scoring new customers. If you target your leads with the right content and then put it right in front of those going through this new experience, then your name will already be on their minds.
This concept starts with creating specific content for certain life events. For example, let's say a financial firm wants to target new parents, encouraging them to open a new savings account and start putting away for their baby's future. First, the firm will create content, perhaps a checklist of how to start a child off right financially. Then using the Lookalike Audience feature, the firm's marketers will target men and women who have just had babies and are posting about their life event on Facebook.
Tip #10 – Follow-up and Optimization
This is kind of important as it would put you on the map in a very organic way, without using the sponsored methods.
Follow people and companies in your vertical, participate in different discussions and engage in both business and personal way. Doing this, your prospects will find out that they are not only clients to you (which is definitely not bad, you are running a business after all), but friends – the concept behind Facebook.
Facebook ads are not a setup-and-forget process. To get the most out of your expenditure, you need to constantly monitor the performance of your ads to determine what is and what isn't working in your favor.
It is important to nurture and further cultivate your relationship with the new leads to make your Facebook Ads reach fruition. Just ensure that your Ads are transparent and helpful pieces of content so that people willingly volunteer their information.
About Navaneetha
Navaneetha, popularly known as "nav", loves to read, play badminton, play the keyboard and sing but when she's not doing any of those, she loves to write. What started as a high school hobby to write is now her ongoing passion. At AeroLeads, she manages Inbound Marketing and Social Media Marketing.
[simple-author-box]
Post Navigation