Best Latest eCommerce Website Features
Everyone wants to have the latest of everything that comes into the market. eCommerce helps people get what they want without having to go from shop to shop and wasting time to get the best deals and searching. There's always something new in tech and eCommerce is one of them and helps establish the groundwork for upcoming trends in the online marketplace. There is quite indeed nothing like getting your products getting delivered while you sit at home. That too for products newly introduced and one doesn't have to line up in jam-packed markets. Developers are always rolling out software and tools in the market and it is beneficial to stay up to date with the trends. But what's new in the field of eCommerce race to use?
Let's find out:
1. Related Items:
While searching for a product we like, we often target and search for something we have seen in an advertisement or recommended. By searching for things online, it is always a great option to have variety and other products in mind. But how? This is where eCommerce features like the 'related item' features come in. While searching, it displays a list of products in the same category and the products that are often used with them. Somehow it shows users more things they want to buy with the one they're searching for. This feature also displays products people often 'buy together' or 'bought by other people'. It helps a lot in selecting the products we might not and assists the user and boosts sales by recommending products.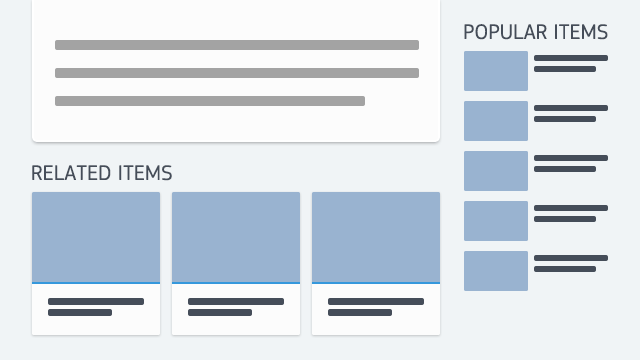 2. FAQs:
FAQs or Frequently Asked Questions are a critical component of the latest eCommerce website. Properly answered questions posted on the product page go a long way in boosting user confidence. By reading the answers, one can get access to customer doubts and complaints regarding the product and choose accordingly. This helps one decide whether or not to buy the product. Users and sellers both can provide extra info and answer any doubts and this helps the user trust and verify everything leading to an eventual conversion.
3. Security measures:
eCommerce revolves around online transactions. There is no eCommerce without the security measures in place. After all who would want to carry out a transaction knowing the site isn't secure and posing financial risks by exposure to anyone watching? Online transactions are a major security risk if carried out on sites with no security measures in place. As a result, no will buy from the site as customers are pretty concerned and well aware of such things. It is important to install the following protocols and tools for security on your eCommerce site:
SSL Certificate: SSL connection is a networking protocol to lock the connection between host and server. It establishes a secure connection which exists between the user device and the website. By choosing and installing a proper SSL certificate provider, you can boost your client's privacy and build trust and face no issues in transaction matters.
Two-factor Authentication: This adds additional security option by providing an OTP for further verification in addition to username and password on the platform.
Using a firewall: A firewall will block all malicious traffic to your site like bots and make a better experience for you.
Privacy policy: Make sure to display the privacy policy in the site footer and show what is assured and what is not.

4. Advance payment options:
There are more and more third party platforms rolling in by trusted players in the market. Apple Pay, PayPal are some of the options internationally used and available in several countries. This enables users to click using these option with just a click of a button and the transactions are super secure. There are several other options also rolling in the market and it is the great way to roll these out with security and transparency with your customers. It is essential to constantly evolve in the field of eCommerce as nothing in the field of technology remains the same.
5. Mobile friendly:
Making your website mobile friendly is perhaps the best thing you can do to get profits from your eCommerce business. Majority of people these days shopping online do so from their mobiles itself. All research regarding products is done by people on their phones these days because it is easier to target based on ads. This is because social media lead generation efforts to lead to eCommerce profits. Still several sites haven't adopted this platform and of course, fall behind in the eCommerce race.
6. Special offers:
Offers and discounts always attract customers and increase the volume of sales. Major eCommerce platforms are now using offers as promotions in emails, texts, and their social feed. This increases the number of customers flocking to the site and results in more website visitors and this leads to more revenue because of lead generation efforts. Lead generation and social media go hand in hand if used properly.
7. Wishlists:
Everyone is looking at products online and often people forget what they want at some point or another. Having the option of a wish list solves this problem. How? Visitors look at a huge range of products from all kinds when visiting an eCommerce website. They look for the deals, reviews, ratings among many things to consider buying the item. Having a wish list enables people to store what they want for later. It goes by its name pretty much but it plays a vital function on any eCommerce site. This is because even if people don't buy products at the first sight, it makes them store them on their wish list to see what they want later on.
Having a proper eCommerce site is a boon to your business. There is no questioning the power that eCommerce holds over traditional marketing techniques. But to be able to leverage this and entice customers for max efficiency, one has to be aware of all the tools available in the field of eCommerce. The mentioned tools are the latest and the best options available in the field of eCommerce today and it is up to you how to use them for maximum profits.
I am a freelance writer and a photographer who loves to learn and dabble in everything. I am from an IT background but tilt more towards arts and nature as much as IT and everything associated.